Mapping Early New York and Long Island - Update
Project Manager – Toya Dubin
Over the past year, the Mapping Early NY project has expanded to include maps of Long Island, Brooklyn, and Queens that give us a greater understanding of the Native American Ancestral Lands, and the Dutch and English Colonial settlements.   Maps that cover New Netherland and New England have also been added, along with a World View.      
Features that allow you to 'zoom to' the best viewing for a particular map or layer have made navigating the site much easier.   Look for this symbol next to any of our maps or layers :   As always, Nitin Gadia, our Mapping Director has carefully georeferenced the maps and layers so that it is possible to see them in relation to Google Maps. 
 In Long Island we've added 6 new maps, we've also added the famous Belgii Novi 1651 to represent New Netherland, and a 1670 Map of New England.  Boundaries of Native American Ancestral Lands and Tribes  have been linked to encyclopedia entries.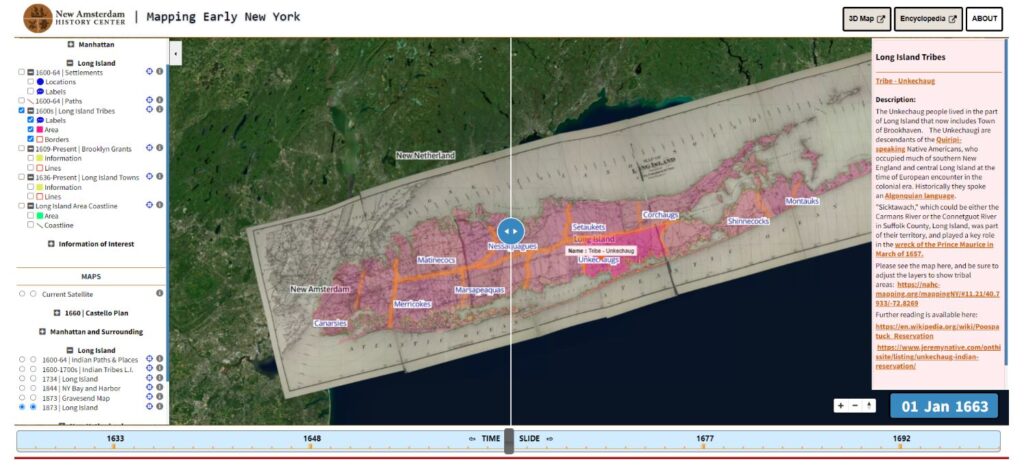 We are continuing to work on our 3D model with our 3D Modeler, Eduard Van Dijk, who is currently modelling the wreck of the Prince Maurice out on Long Island.   This model will eventually include the wrecked ship near Fire Island and an Indian Village nearby on the shores of the Carmans River. Read the story of the shipwreck in our encyclopedia, and check back here regularly as we are finding new information about it daily. 
We are planning to add the 3D Model of the Castello Plan as a map layer in the main page this coming year, and also to create a 3D environment with greater detail.
The document collections added this year include A1808-78 (Delaware)  and A1883 (Curacao)  from the NYS Archives collection with Charly Gehring's wonderful translations included, bringing the total documents up to more than 6,000.   We also received a hard drive from the NYC Municipal Archives containing more than 9,000 Dutch Colonial documents in their collection, and those will be added over the course of the next 12 months along with additional collections from the NYS Archives.
Many thanks to our sponsors for making all this possible:  
THE SOCIETY OF THE FIRST FAMILIES OF NEW YORK, THE ROBERT DAVID LION GARDINER FOUNDATION, THE SOCIETY OF THE DAUGHTERS OF HOLLAND DAMES