The New Amsterdam History Center is pleased to invite our members and friends to the launch of the
the first bilingual walking tour of lower Manhattan created by Dutch Heritage World Tours in the series
How Dutch Is New York?
THE NEW AMSTERDAM TOUR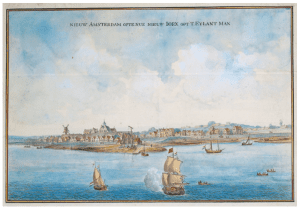 On Wednesday, June 13, 2018, from 5 PM to 6:30 PM
Meeting place:
Outside The Beer Garden, Battery Park.
Please use entrance Pieter Minuit Plaza or South Street
The tour will be followed by a complimentary drink and
an optional dinner at Fraunces Tavern for those who would like to join.
Reserve early. Space is limited to 20 people.
Send an Email to: NAHCeberg@gmail.com or call 212-874-4702.
Please indicate if you will attend the dinner.
If you would like to support our programs or become a sponsor of one of our upcoming events,
visit us on the web: https://newamsterdamhistorycenter.org/support.
Phone (212) 233-1960.