Tthe New Amsterdam History Center and the New York Botanical Garden Humanities Institute Research Coordinator, Vanessa Sellers, for a fascinating and informative private tour of the rare book library and gardens.
In celebration of its 125th anniversary, the New York Botanical Garden has invited the New Amsterdam History Center and its members to a very special event.
Did you know that there were no fruit trees in North America before the Dutch arrived in the 17th century? The New York Botanical Garden neighbors the estate of the 17th century Dutch landowner Adriaen Van Der Donck? Holland was the center of the publication of books on botany?
This is a unique opportunity to learn about the history of Dutch horticulture and the evolution of the Dutch garden in the 17th century and spend a wonderful morning.
Please see below for further information.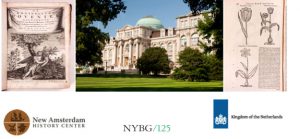 DUTCH DAY AT THE NEW YORK BOTANICAL GARDEN
TOUR OF THE GARDEN AND EXHIBITION OF RARE DUTCH FLOWER BOOKS
MAY 5, 2016, 10:30 AM –1:00 PM
The New Amsterdam History Center cordially invites you for a special day at the New York Botanical Garden hosted by the Humanities Institute, NYBG, featuring a tour of the 250 acre premises and a viewing of unique Dutch botanical treasures in the LuEsther T. Mertz Library.
PROGRAM 10:30 AM–1:00 PM
10:30 AM – Guests arrive at Mosholu Gate and are met by Esme Berg, Vice President NAHC and Vanessa Bezemer Sellers, Research Coordinator Humanities Institute, Mertz Library
10:30–11:00 AM – Coffee in the Mertz Library Rotunda
11:00–11:30 AM – Welcome by Rob de Vos, Consul General of the Kingdom of the Netherlands, New York.
Presentation on Dutch botanical publications through the ages
11:30 –12:15 PM – Viewing of historical books and maps in the Rare Book Room
12:15–1:00 PM – Tram tour of the Garden
Participants can explore grounds and bookstore after program ends
RSVP to nahceberg@gmail.com
This is a benefit program for the New Amsterdam History Center.
Your tax-deductible contribution of $100 includes free admission and parking.
Payment may be made on the NAHC website, newamsterdamhistorycenter.org or by check payable to the New Amsterdam History Center.
Space is limited to 35 guests. Directions and transportation: nybg.org/visit/directions.php Support for the Humanities Institute provided by The Andrew W. Mellon Foundation