The Story of Govert Loockermans
From Ship Boy to Founding Father
Cook's mate, company man, citizen, founding father… such was the extraordinary path of Govert Loockermans. His energy helped shape a future society where a poor ship's boy could become a city's founding father.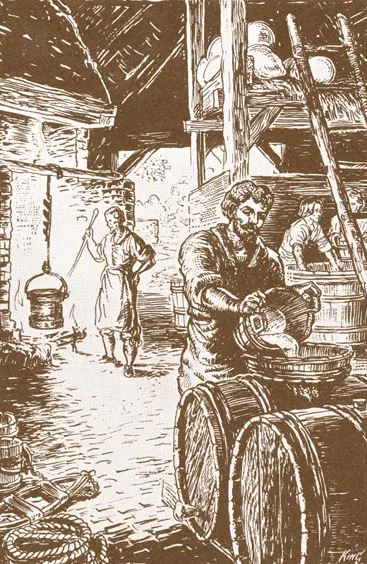 Sailing across the Atlantic Ocean was an exciting adventure for a poor sixteen-year-old boy from Turnhout, a small commercial town in what was then known as the Spanish Netherlands. Young Govert Loockermans made his way to Amsterdam, then spent two months travelling as a cook's mate before arriving in Manhattan in 1633. But the voyage was just the beginning of a greater adventure. In less than twenty years, Loockermans would rise from relative obscurity to become one of Manhattan's most prominent merchants and one of the founding fathers of New Amsterdam's first municipal government.
Immediately upon his arrival in New Amsterdam, Loockermans entered the service of the Dutch West India Company as a clerk, a role that gave him his first exposure to commerce. Soon, Loockermans began trading with the natives, learned their languages, and purchased his first small vessel from New Englander Isaac Allerton, who would become his life-long business associate. Taking advantage of opportunities that arose from the end of the company's fur-trading monopoly in 1639, Loockermans made his way back to Amsterdam where he successfully marketed his trading skills to Gillis Verbrugge, the patriarch of an Amsterdam merchant family, and was hired as the family's agent in New Netherland. He married Ariaentje Jans, the widowed niece of Gillis Verbrugge, to solidify the business arrangement.
After returning to New Amsterdam in 1641, Loockermans rose quickly in prominence, trading up the Hudson River in Rensselaerswijck, along the South River in modern-day Delaware, further south to Virginia, and along Long Island Sound into New England. An aggressive and sometimes ruthless trader, Loockermans pushed the limits of commercial opportunities, as when he challenged his English competitors in their trade with Long Island Indians. As he sold coats to natives near Southampton, Loockermans was accused of offering a gun-powder bonus for every additional coat that was purchased and, even though it was illegal, also promised to sell guns and lead shot if the natives cut off trade with the English completely. Such behavior threatened to create a provincial incident and led to formal complaints from New Haven Governor Theophilius Eaton to Director General Stuyvesant. His relationships with local natives sometimes took more violent turns. Sent by Director Kieft to confront the Raritan Indians, Loockermans may have tortured and killed a tribal leader. Later, he was accused of killing an Indian chief on the South River in 1647 but admitted to only threatening him.
His devotion to commercial success and personal gain also brought him into conflict with West India Company officials. His trade with the South (Delaware) River was restricted when he traded at posts normally reserved for the company and on several occasions, he was accused of smuggling. Although merchants typically looked to get around government regulation, the veracity of some accusations can be questioned. In the 1651 prosecution against Loockermans and his partners, for example, the charges may have been motivated by factors other than a violation of the revenue laws; Stuyvesant was willing to commute his sentence of banishment for three years if Loockermans agreed to stop his criticism of the Director General.
Loockermans' commercial success made him a prominent individual within Manhattan's developing merchant community and as such, he was drawn into a series of challenges to the West India Company's authority. He participated in protests against Director Kieft's war against the local natives and his oppressive, unrepresentative government. As a member of the Board of Nine Men (1647), originally called together by Stuyvesant to serve as an advisory group, Loockermans joined with his fellow board members to create and support the Remonstrance of New Netherland, a lengthy document that chronicled the abuses of the West India Company and demanded a suitable municipal government for New Amsterdam. The Remonstrance, presented to the States General of the Netherlands in 1650, brought city government to Manhattan in 1653.
For the remainder of his life, Loockermans served the city government he helped to create. He was regularly one of the few individuals considered for membership in the Court of Burgomasters and Schepens, the official ruling body of the City of New Amsterdam. He was elected a Schepen twice (1656, 1660), and was formally nominated for Burgomaster in 1664. He also served as one of the city's Orphanmasters from 1663 to 1665 and and was commissioned a Lieutenant in the City Militia in 1668, three years before his death in 1671. His participation in the upper ranks of city government was made possible by his status as one of thirty original Great Burghers of New Amsterdam.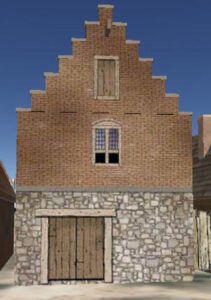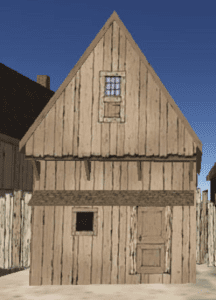 Learn More
To the left are digital models of Govert's Brewery and House
The NAHC has a wealth of information about Govert Loockermans and the context in which he lived in New Amsterdam.
More Examples Are:

Click to see: Historical Documentation of one of Govert's properties
We hope you've enjoyed our articles and information.  If you would like to contribute to help us promote and spread the history of the early New York, please click and discover more about our programs, what we offer and ways you can help.
To be a sponsor email us at:  events@newamsterdamhistorycenter.org